Empty the container with a tipping device or slide conveyor
As a manufacturer of vibration conveyors, we cover the entire spectrum of bulk material feeding.
This starts with our container emptying systems for emptying containers for subsequent further processing of the products in subsequent processes.
All emptying systems have one thing in common, 100% residual emptying depends on the container used and can usually not be guaranteed.
Our systems for container emptying at a glance:
Container tipping device BKG-1 for various standard containers
Hydraulic tipper with a tipping angle of 130° for most applications.
It is emptied into an adequately dimensioned storage and dosing bunker, which can hold the complete filling volume of the container and meter it to the downstream conveyor system.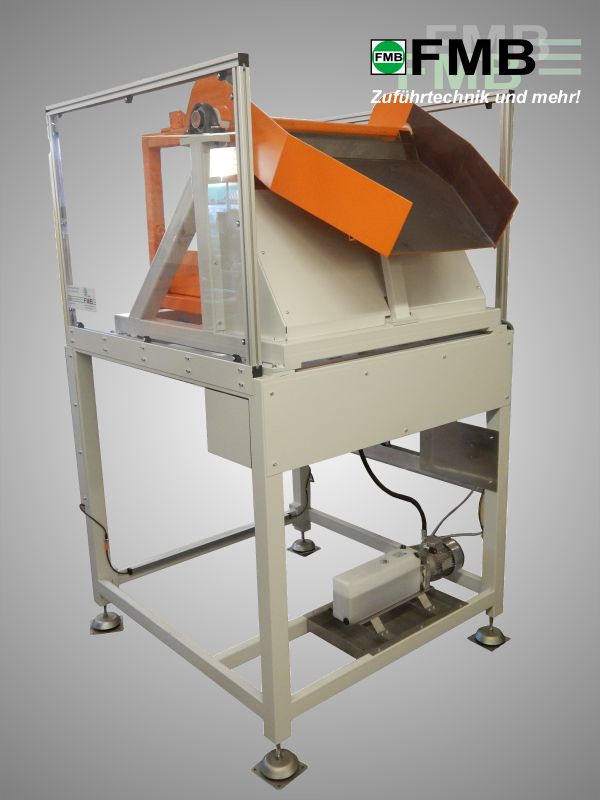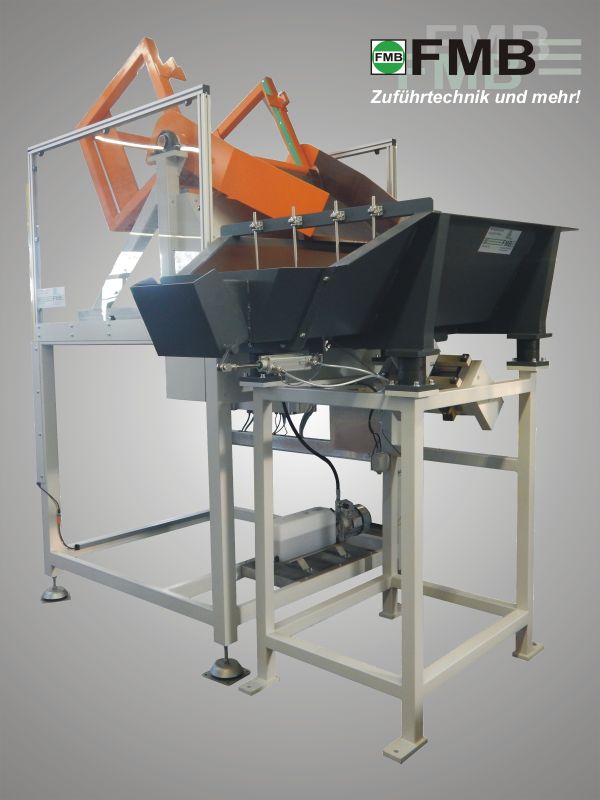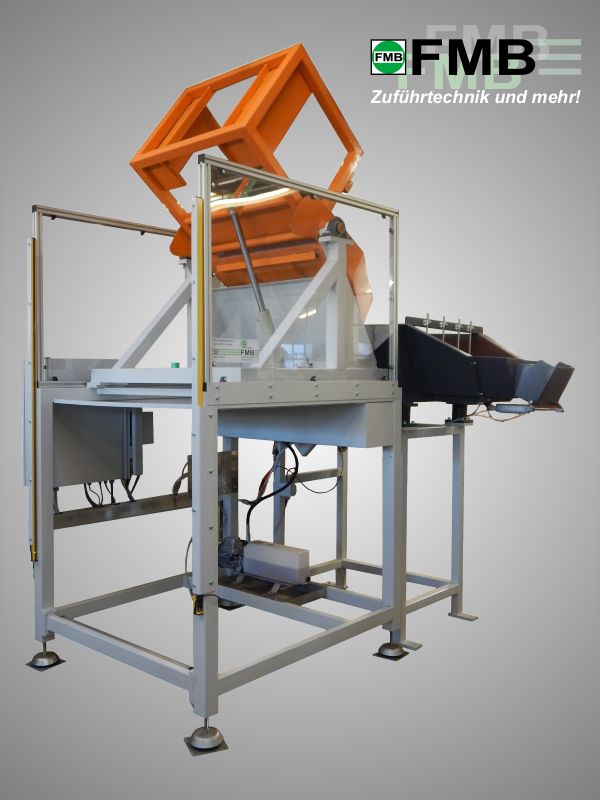 Container tipping devices are suitable for many types of containers and lattice boxes.
In combination with one of our storage and dosing bunkers, they can also be used as a dosing system for charging the furnace or for weighing and packaging.
Container emptying system BGE-1 for smooth-walled containers
with hydraulic container closure and sliding conveyor technology
With a conventional container tipping device, a container is pivoted overhead and the container contents are usually dumped in a separate storage bunker.
This has several disadvantages:
Due to the drop from a tipping device into a storage bunker of partially Damage to the parts of several 100 mm can result from the parts falling out and hitting each other. The result is pseudo rejects to be avoided.
The emptying process with a tipping device is very loud due to the drop height of the parts, depending on the nature and resonance of the workpieces, noise peaks> 120 dB (A) can occur.
The storage and dosing bunker required in addition to the tipping device means that additional parking space and additional energy are required.
Container emptying system BGE - more than just a tipping device!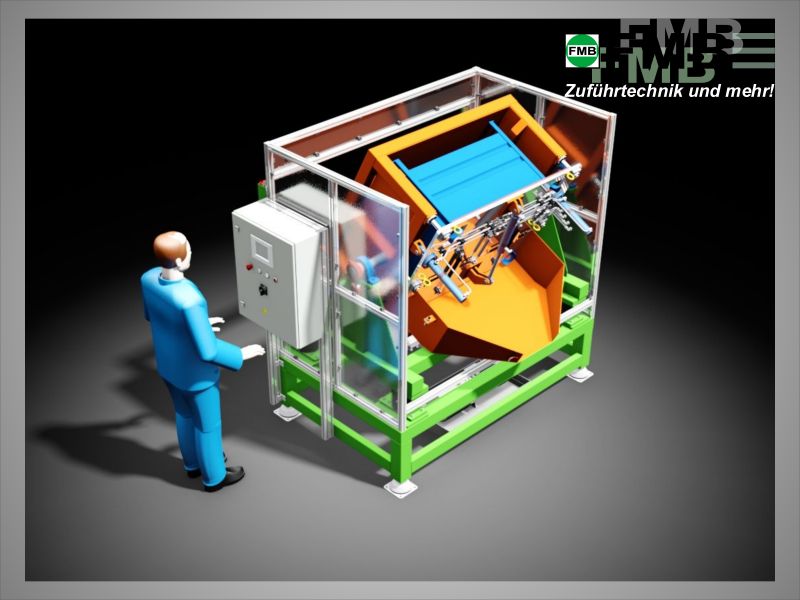 With the container emptying system BGE (container slide emptying), it is possible for the first time to convey the products to be fed in gently and quietly directly from the transport container with the help of the FMB slide conveyor technology, and to meter them directly into the downstream device, such as a vibratory bowl conveyor, without a storage bunker.
Containers with stiffening beads are only suitable to a limited extent, as they cannot be completely emptied.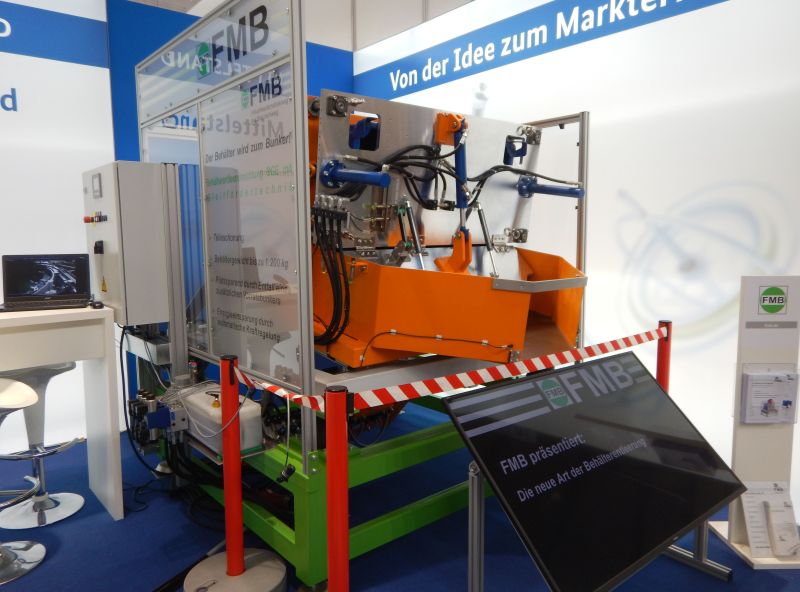 As one of the leading manufacturers of sorting and feeding technology, in addition to our proven components such as high-performance vibratory spiral conveyors, spiral slide conveyors, large bunkers with slide conveyor technology and feed systems for workpieces that cannot be accumulated, we are once again showing an innovative feed solution as a result of decades of experience and know-how.
The container emptying system BGE is a novelty on the market and is offered exclusively by FMB!
Container emptying with sliding conveyor technology
A standard parts container is set down on the oscillating platform using a forklift. The container is closed from above with a hydraulically actuated cover, which is firmly clamped in the swivel frame and swiveled by at least 90° into the emptying position.
A bulkhead in the lid is now opened and the system is made to vibrate. The vibrations are directed in the system in such a way that the standard parts container is emptied using the sliding conveyor method.
The flow of parts at the transition to an on-site system technology is monitored. If there is no flow of parts, the container is swiveled back into the basic position and unlocked. The container can be changed.
No additional storage bunker required.
Container emptying system BGE-2 for smooth-walled containers
with sliding conveyor technology and tracked tipping function
Further development of the BGE-1 without a hydraulic container cover for larger and non-free-flowing workpieces.
As with the BGE-1, the emptying also takes place with our low-frequency vibratory drive, the flow of parts on the discharge chute is detected by sensors and the swivel angle is tracked step by step.
Containers with stiffening beads are only suitable to a limited extent, as they cannot be completely emptied.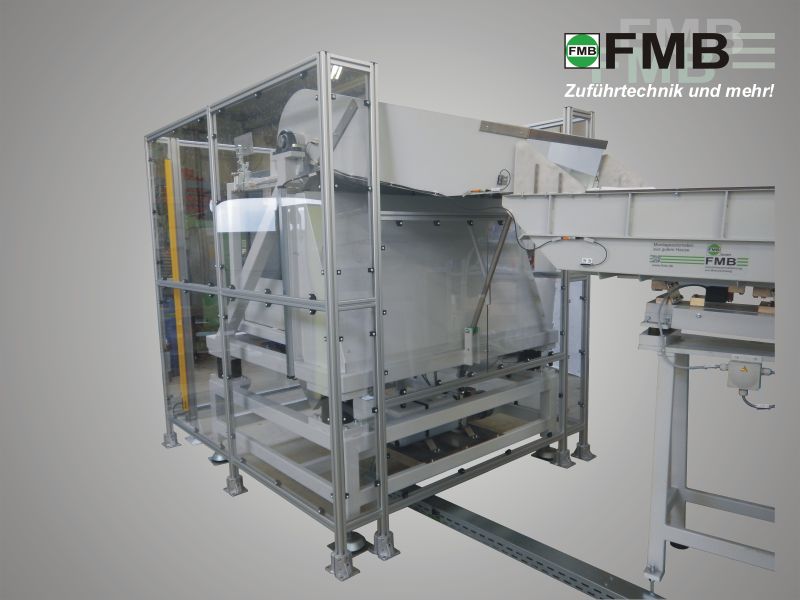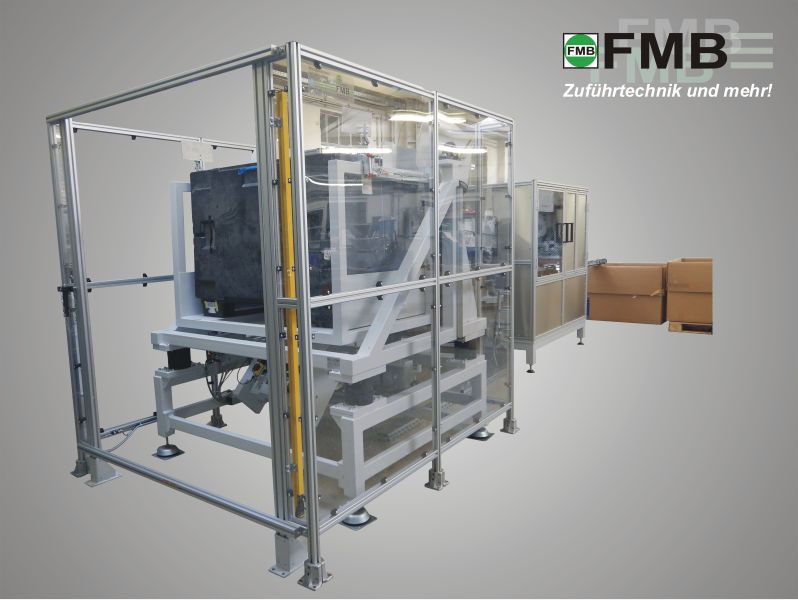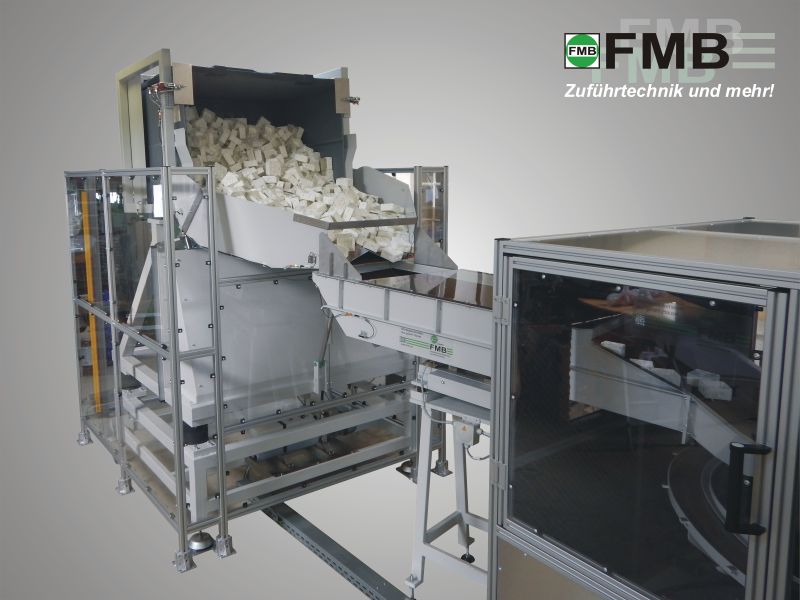 Container emptying systems with sliding conveyor technology are offered exclusively by FMB!
Silo emptying system SES-1 for silo container 2052
with pneumatic opening of the scissor lock and conveyor chute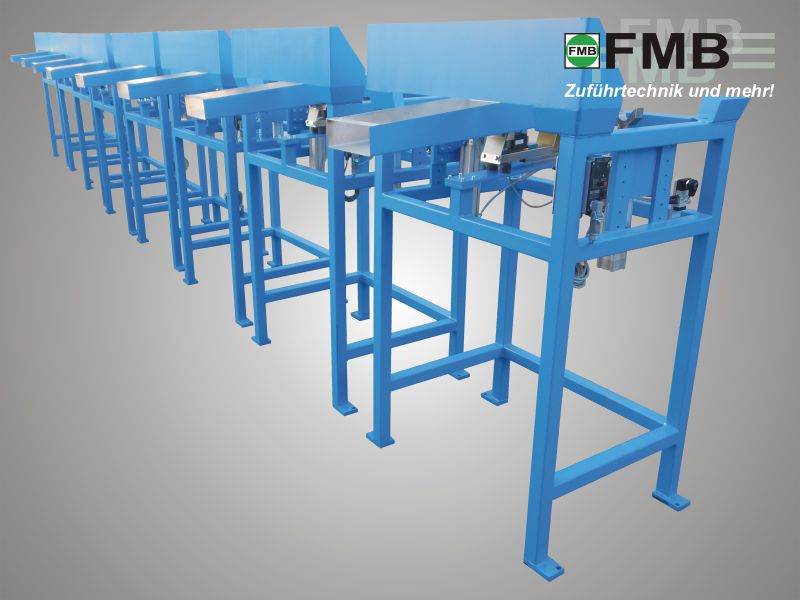 Emptying of silo containers 2052 with central scissor closure for free-flowing workpieces.
The scissor lock of the silo container is opened via a hand lever valve with two pneumatic cylinders, so that the workpieces can be removed with the driven discharge chute and fed to the subsequent further processing in doses.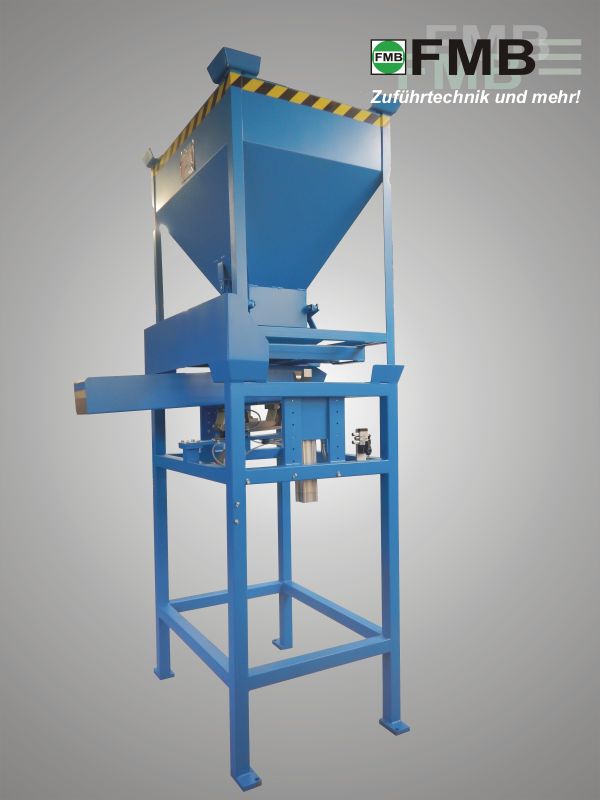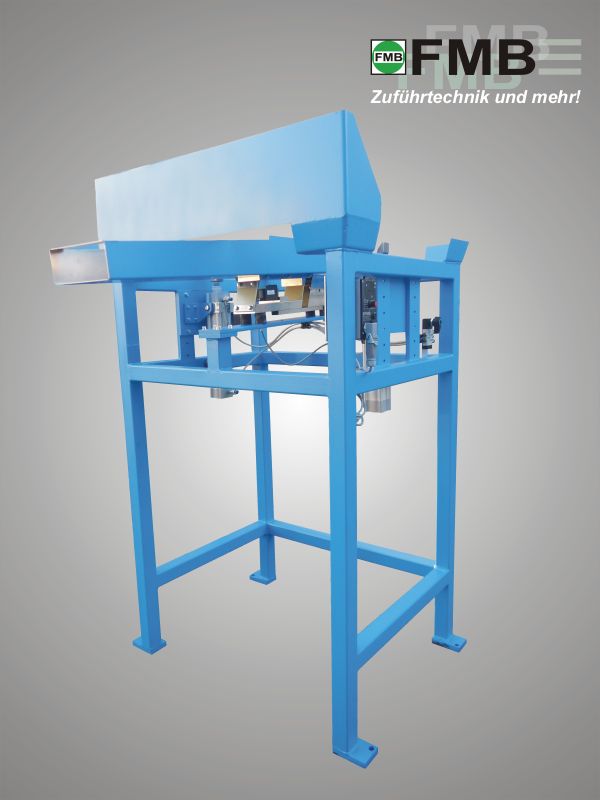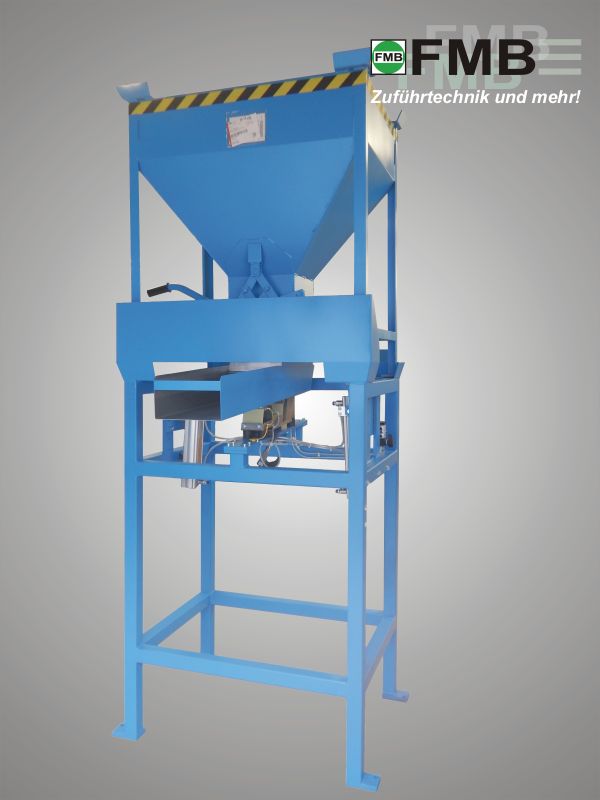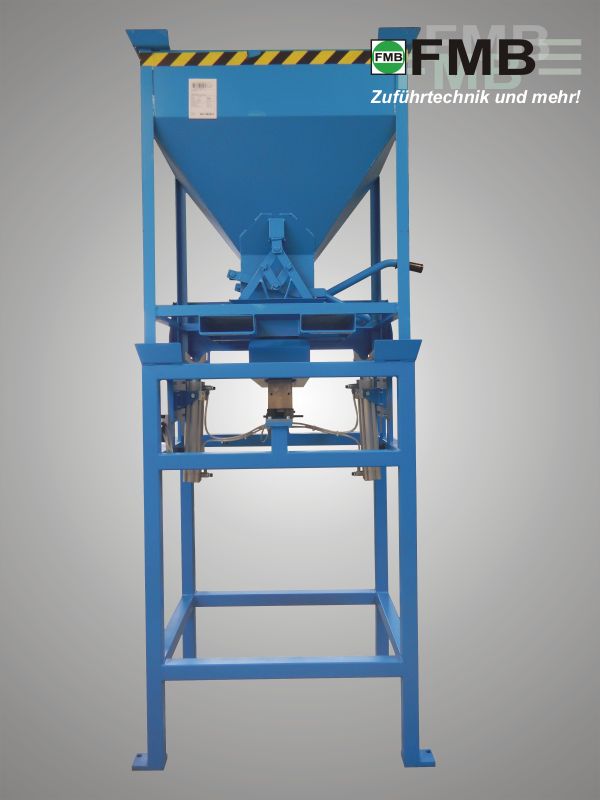 Emptying platform EPL-1 for special containers
with side wall opening and sliding conveyor technology
Containers with a side wall opening are fixed on a swing frame using power clamps. The side wall is now opened in a targeted manner and the container is slowly emptied by the oscillating drive.
With this system, there is no need for a tipping device or a storage bunker.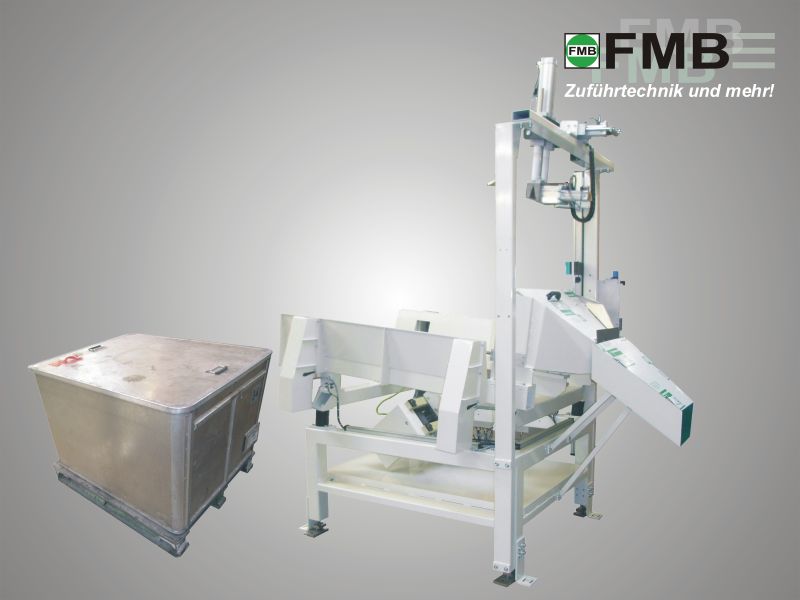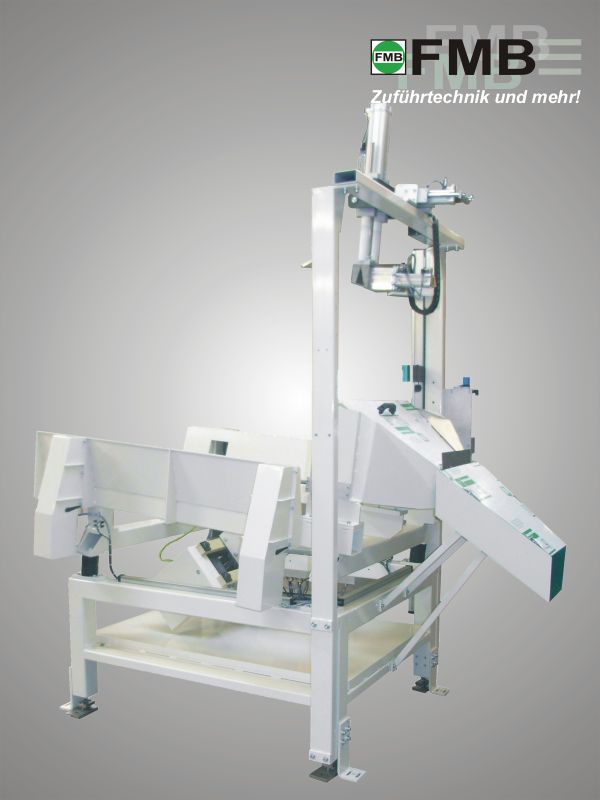 Solutions by FMB - your transport container becomes a bunker!