Feeding sensitive parts
In low-frequency feeders, the material being conveyed does not rise from the conveying track but slides forward with very little noise. Use of these systems provides a means of conveying and sorting that guarantees absolute protection for the parts and an absence of wear.
As the conveying speed of these devices is lower than for a vibratory bowl feeder with micro ejector technology, these devices are suitable for simple sorting tasks in the lower performance range with a main focus on protecting parts and reducing noise.
FMB is the sole worldwide supplier of these systems to two major corporations for engine parts.
A low-frequency feeder essentially comprises the following components:
Low-frequency sliding conveyor drive of type BGF
Control electronics
Sorting bowl top with orientation facility
Coating (according to goods to be conveyed)
The direction of travel for a low-frequency feeder is laid down in the following figure:
direction of travel right = clockwise
direction of travel left = anticlockwise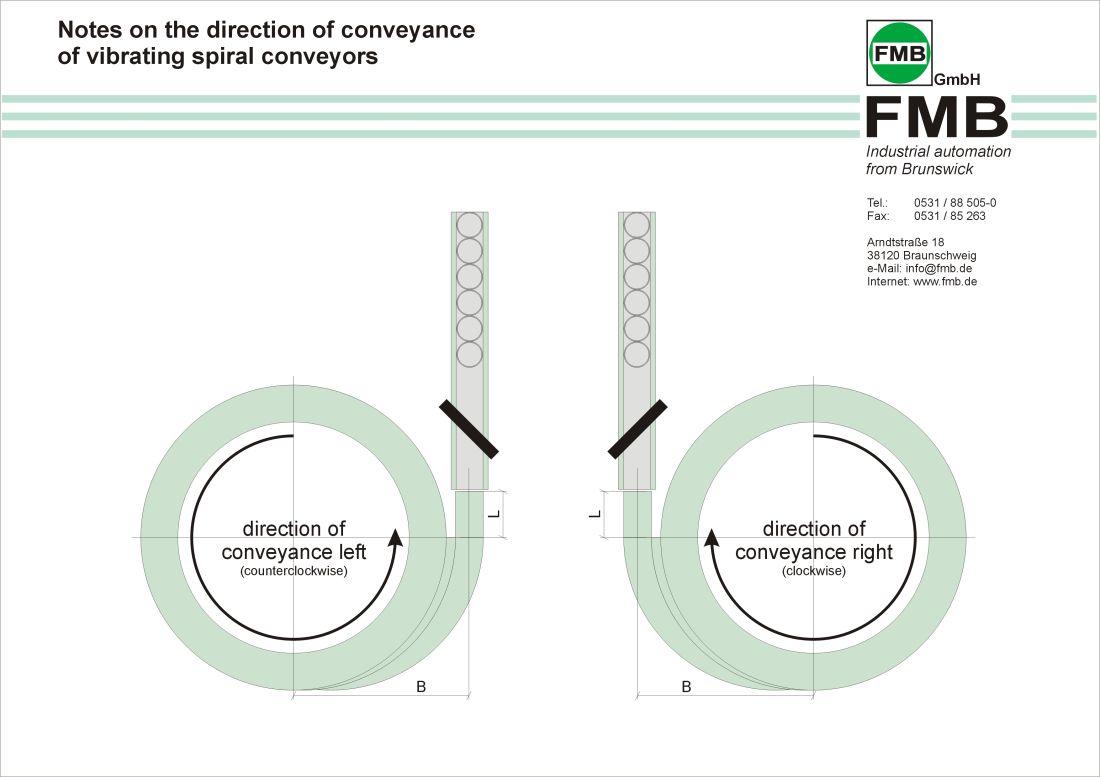 The drive system of the low-frequency feeder represents a special feature because it works according to the sliding conveyor principle. This means that the material being conveyed during the processes no longer rises from the surface of the conveyor but, instead, slides forward with very little noise. As the acceleration due to gravity is not exceeded by the system, this is an absolutely low-noise method for the vibratory transport of mass-produced parts. A noise-reducing cover, as is usually necessary for vibrating feeders, thus becomes superfluous.
The following dimensions are possible:
Type BGF-40: 400 mm drive diameter
Type BGF-63: 630 mm drive diameter
Type BGF-80: 800 mm drive diameter
The low-frequency drive systems of the type BGF require special control units with software specially designed for these drives.
The bowl tops are hand-finished according to the specific material that has to be conveyed and may have a cascade, conical or cylindrical design.
The orientation device specific to the workpiece is produced in the same manner as for conventional vibratory bowl feeders, but due to the way in which these devices function is limited to simple sorting operations and lower performance levels.
The low-frequency feeders are generally coated with polyurethane as the very gentle transport of parts here means that it is possible to eliminate a conveyor brush.