Storage bunker with 1400 liters and 3000 liters filling volume
As is well known, special tasks also require special solutions.
So our customer was looking for several feeding devices which, in addition to a high feed rate, also had to have a particularly large bunker capacity.
60,000 roll adapters were to be bunkered as intermediate buffers, then sorted and fed back to the overhead conveyor system.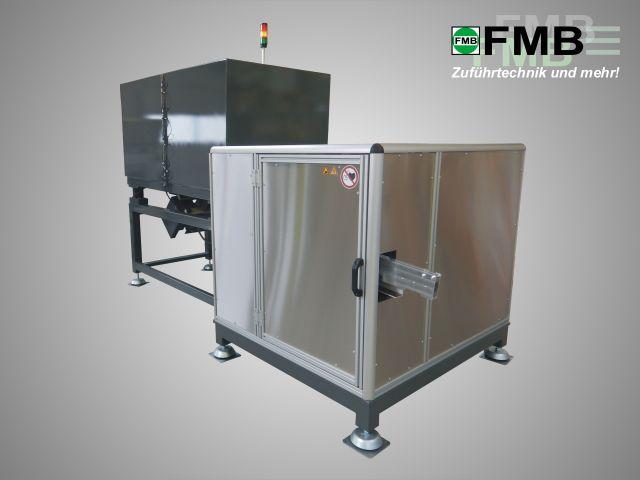 Thanks to our sorting devices with high-performance drives, the conveying capacity of at least 120 roller adapters per minute was actually achieved and 150 parts / min. can even be exceeded by 25%.
But the amount of up to 60,000 roll adapters to be taken up in a short time required the design of a storage bunker with a filling volume of 1400 or 3000 liters, as well as the possibility of leveling the bulk of the roll adapters fed back by the overhead conveyor system.
This in turn is only possible if the bunker outlet is closed while the vibration is initiated.

As a result, we had to provide a pneumatically opening bunker outlet, which closes the outlet in the basic position and only opens during replenishment in the spiral conveyor.
Filling volume 3000 liters!
After we had already delivered three systems with a 1400 liter bunker tray and filling level inquiries, the fourth system has now been equipped with a 3000 liter bunker tray for up to 60,000 roll adapters.
For these and many other tasks, our large bunkers with low-noise slide conveyor technology offer the ideal basis, because they are designed with a powerful bunker drive for a filling weight of up to 2,000 kg.
With our unique slide conveyor technology, they ensure parts protection, noise reduction and even dosing of the conveyed material.
Our delivery program therefore includes storage and dosing bunkers with filling volumes from 5 liters to 3000 liters!
Vibrating bunkers with such filling volumes are another unique selling point of FMB.
Impressions: