Change of management at FMB GmbH
Dear business partners and customers,
we would like to inform you that Mr. Hartmut Striepe and Mr. Edwin Neue have been managing partners of FMB GmbH since May 1st, 2015.
After more than 20 successful years at the helm of FMB GmbH, Mr. Enrico Di Guida, the founder of the company and Mr. Striepe, is going into his well-deserved retirement. Under his leadership, FMB GmbH has established itself with steady growth worldwide as a reliable supplier and partner for industrial automation. For a transition period, he will continue to support the company with his expertise and experience in an advisory capacity.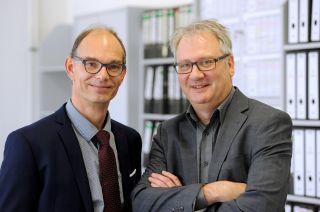 Mr. Striepe, also the founder of FMB GmbH, and Mr. Neue are now working together successfully as a team with the common goal of further developing FMB GmbH and further consolidating and expanding its current position on the market.

"It is our declared goal to find innovative and suitable solutions for your individual requirements. To this end, we will systematically advance the highly specialized development and manufacturing know-how of FMB GmbH."
Our entire team is looking forward to a successful cooperation with you.