Docking station and exchangeable feeding technology
For the automation of an injection molding machine, our customer needed feed units for 4 different inserts made of metal, which should be provided in the correct position in different numbers per machine cycle.
In addition, a thread and length check should be integrated into each feed unit in order to eject bad parts directly and to provide the removal robots only with OK parts.
One parking place for different component provision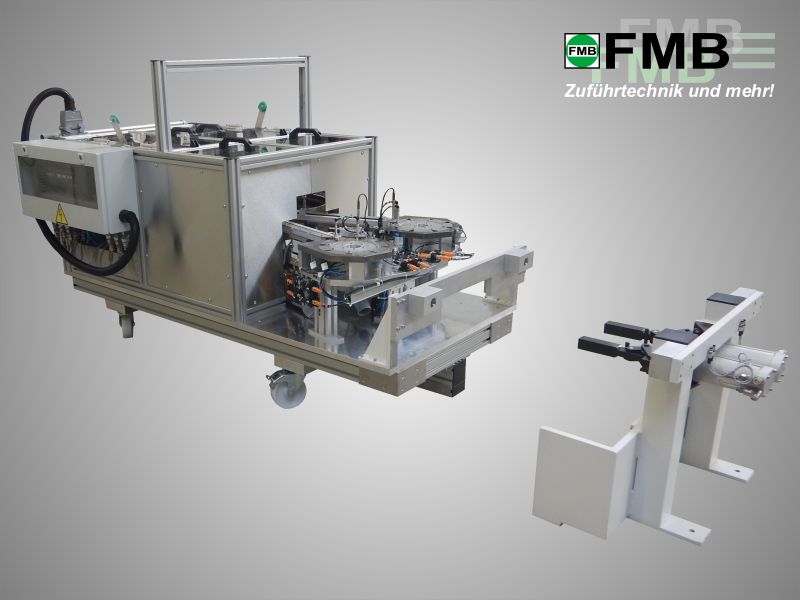 As a further requirement, the feed units should be designed to be flexible and interchangeable in order to enable the production of further plastic parts with other inserts on the same injection molding machine in the future.
For this purpose, we have developed a concept in which different feed systems on change carriages can be exchanged for others quickly and easily, but also with reproducible accuracy.
Plug and Play
For this task, our feed units are now used on a change carriage, which are coupled to a docking station and locked in position with pneumatic power clamps. The electrical and pneumatic connection is made with a coded Harting plug, so that the change can be made within a very short time using plug and play.
Change trolley with docking station:
With interchangeable feed systems from FMB, many other areas can be automated in which changing workpieces have to be fed.